Pubs
From EUTC Wiki
Pub: a meeting place where people attempt to achieve advanced states of mental incompetence, by the repeated consumption of fermented vegetable drinks.
Bobbys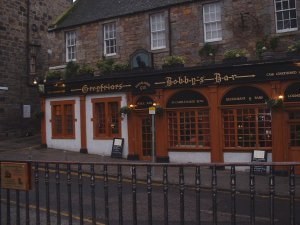 Greyfriar's Bobby's Bar: Once the drinking venue of preference, not due to beer quality or price but because it is really close, they sponsor our shows and there are normally several Bedlam members working behind the bar. After a re-fub they now do "table service"
Cloisters
Nice pub in Tollcross and is where FoB meets. Usually you can find a bedlam member from one generation or another in there - Particularly on a Sunday afternoon.
Doctors
Named after the former Royal Infirmary across the street, this is the backup for when Bobby's is closed, full or people fancy a change. Doctors has a wider choice of ales and cheaper than Bobby's. Doctors also shows sport which the new look Bobby's does not.
Teviot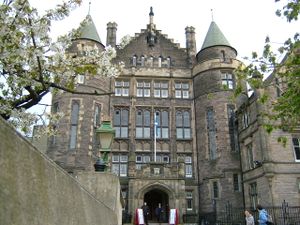 The oldest purpose built student union in Britan, this is a good place to head after other places close and being a student union, it sells cheap drinks. It is generally open until 3am, though some bars within the building will close around half 2. During the Fringe is becomes the Gilded Balloon, and has a license till 5am.
Dropkick Murphy's
Formaly known as Igloo, a club on Merchant Street (Go down Candle Maker Row and turn right) which is open till 3am (5 during the Fringe) and is kept open as an alternative to gouging your eyes out when the pub closes. You should never ever go there unless you have alot of life insurance or a frontal lobotomy. It was called Bertie's Bar but underwent rebranding in 2001, and then was rebranded back to being Berties, it didn't make a difference, it still sucks ass. It sells reasonably cheap alcohol but can be a bit busy on Friday and Saturday nights.