Lighting Desk
From EUTC Wiki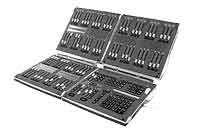 Lighting control is through a Strand 300 Series 48/96 channel desk with full programmable memory and chase facilities. Somebody spilled coke on it in 2007, and now it occasionally does strange things, such as flash red, or forget that the flash buttons exist. The Strand 300 is discontinued, which means that any proper repairs to it are going to be difficult. (Good luck someone who can fix old Strands.) Because of this, it will probably need replaced in the next few years.
This desk controls eight zero88 betapack II 6 way dimming racks. These have six 10A dimmer channels each giving 48 channels in total. The dimmers are wired on three phases (3 racks/18channels per two 100A phases and 2racks/12channels per the third phase).
The Bedlam Theatre also has a wonderful Zero 88 Sirrus 48 desk that preceded the current control. This desk is available for use when the venue needs to be lit from alternative angles or when EUTC decides to run productions in alternative and lesser spec'd venues. It also has the advantage of having a bass drive option, allowing chases to be sync'd to the output on the sound desk. For reasons best known to Strand, this is not possible on the current lighting desk.
See Also