Theatre Managers Manual
From EUTC Wiki
Preamble
There used to be a printed manager's manual. In the way of the Bedlam, some of it got lost. Here is the text of the last revision of the manual in 2002. Lots has changed since then, so it needs updated by the current generation.
At least it should act as a starting point...
--
Al the techie, March 2006
Disclaimer
None of the contributors accept any responsibility for any of the information supplied in these pages.
If you follow advice from these pages, on your own head be it. The contributors were incorrect when they wrote it, and accept no responsibility for any results caused by following any of the information herein.
Further Disclaimer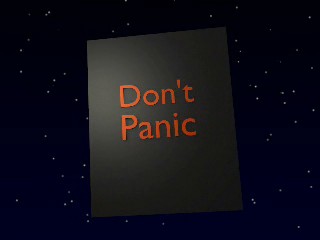 In many of the more relaxed civilizations on the Outer Eastern Rim of the Galaxy, the Bedlam's Theatre Manager's Manual has already supplanted the great Encyclopedia Galactica as the standard repository of all knowledge and wisdom, for though it has many omissions and contains much that is apocryphal, or at least wildly inaccurate, it scores over the older, more pedestrian work in two important respects.
First, it is slightly cheaper; and secondly it has the words Don't Panic inscribed in large red LX-tape letters on its held-together-by-gaffer-tape cover.
Introduction
This manual is designed to hold all the information needed to run Bedlam, because the Theatre Manager changes every year is was seen as necessary that this information be recorded so that it was not lost into the mists of time. This manual is a rewriting of manual written by Al "The Techie" Broom in 1991 which was a rewriting of the manual written by Jo Bullard in 1989.
Lifted straight from the original: "I have been the Manager of the Bedlam for eight months and whilst I could never know what to do in any eventuality, I generally do know who to ask, or what mode of panic is most profitable! With luck, the following will help others to learn to do the same"
Good luck, here it goes.
Andy Edmonstone 2002
Former Theatre Managers
Committee years run from 1st April to 31st March
2005-06: Alex Engel (Fringe Aug 2005: "Evil" James Turner Inman)
2004-05: ... (Fringe Aug 2004: Matt Gray)
2003-04 ... (Fringe Aug 2003: ...)
2002-03 ... (Fringe Aug 2002: ...)
2001-02: ... (Fringe Aug 2001: ...)
2000-01 ... (Fringe Aug 2000: ...)
1999-2000: ... (Fringe Aug 1999: ...)
1998-99: ... (Fringe Aug 1998: ...)
1997-98: ... (Fringe Aug 1997: ...)
1996-97: ... (Fringe Aug 1996: ...)
1995-96: ... (Fringe Aug 1995: ...)
1994-95: ... (Fringe Aug 1994: ...)
1993-94: ... (Fringe Aug 1993: ...)
1992-93: ... (Fringe Aug 1992: ...)
1991-92 Malachy Rice (Fringe Aug 1991: ...)
1990-91: Al Broom (Fringe Aug 1990: ...)
1989-90: Ian Marlee (Fringe Aug 1989: Claire England)
1988-89: Jo bullard (Fringe Aug 1988: ...)
1987-88: Richard Dixon (Fringe Aug 1987: ...)
1986-87: ... (Fringe Aug 1986: ...)
1985-86: ... (Fringe Aug 1985: ...)
1984-85: ... (Fringe Aug 1984: ...)
1983-84: ... (Fringe Aug 1983: ...)
1982-83: ... (Fringe Aug 1982: ...)
1981-82: ... (Fringe Aug 1981: ...)
1980-81: ... (Fringe Aug 1980: ...)
1980: EUTC moves into Bedlam as a temporary home.
--
Uploaded to EUTC Wiki by Al the techie 03/2006